READ TIME:
6
MINUTES —
Introducing the brand new, groundbreaking Muniq Bars. In this article, you'll learn:
We've been working hard behind the scenes to create a delicious, healthy, and convenient addition to your nutrition that seamlessly integrates into your daily Muniq healthy habits. And guess what? Muniq Bars are here! 
Introducing Muniq Bars – The Very First Snack Bar to Reboot Your Metabolism through the Gut Microbiome
Our new Muniq Bars are a delicious anytime snack, perfect for when you're short on time or on-the-go. They're the ideal partner for your backpack, purse, or gym bag.
For the health benefits, we start with 10 grams of our patented resistant starch fiber blend that's been shown through hundreds of peer-reviewed clinical studies to improve metabolism, balance blood sugar, and facilitate weight loss through the gut microbiome. Then we add 10 grams of protein to help keep you full until your next meal.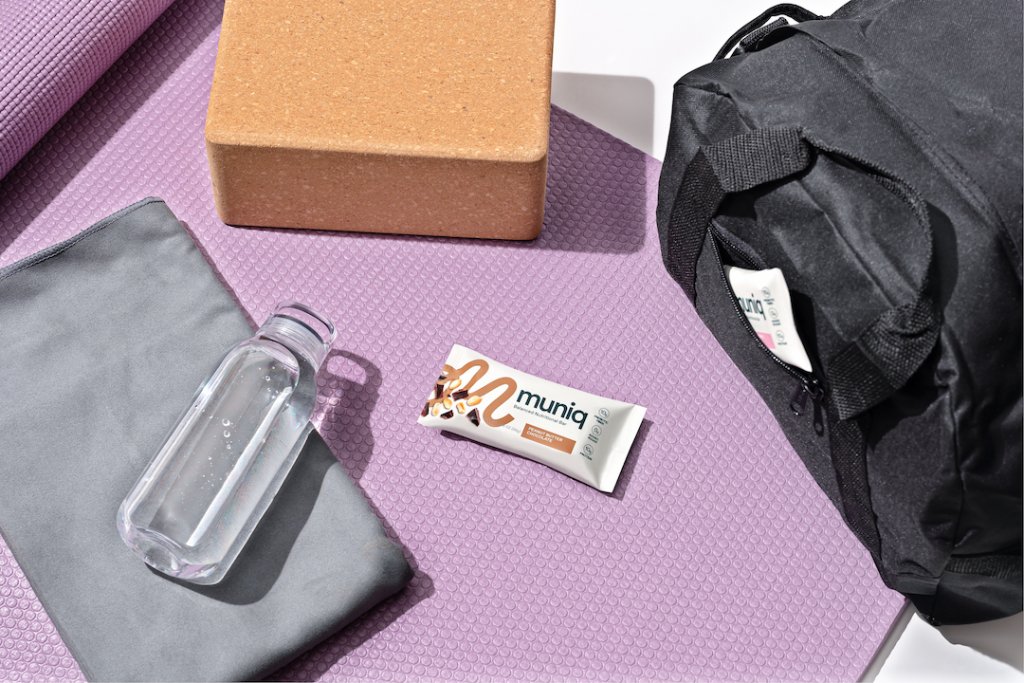 We formulated our Muniq Bars to be a long-term daily solution to improve your overall health and the ideal addition to (or alternative to) Muniq Shakes!
Check out the healthy nutrition stats in Muniq Bars:
10g prebiotic fiber featuring resistant starch

10g high-quality protein

Zero added sugar

<7g of net carbs per bar

Keto-friendly ingredients
The Science Behind Muniq Bars
Just like our shakes and Empowefull Prebiotic Fiber Blend, the unique, proprietary formula in Muniq Bars is powered by a combination of prebiotic fibers featuring gut-balancing resistant starch. 
Resistant starch is a true superfood. Historically, we used to get high amounts of daily dietary resistant starch fiber, but it's been mostly eradicated in western diets. It's extremely difficult to get concentrated, health-changing amounts of resistant starch on a consistent basis.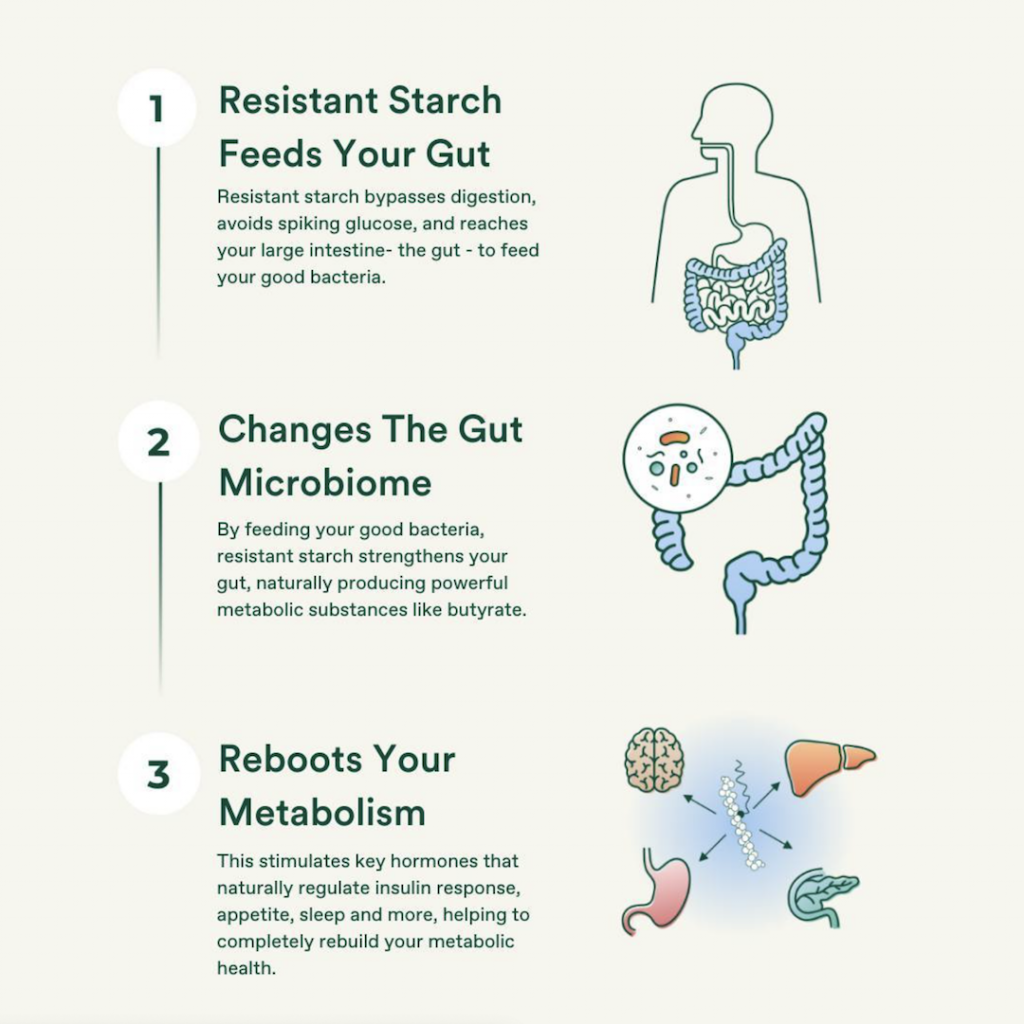 Muniq bars have been meticulously designed to give you a concentrated source of prebiotic resistant starch, that has been shown through peer-reviewed clinical studies to stimulate gut hormones (like GLP-1) that are responsible for improving glucose control, leading to lower blood sugar levels and A1c over time when consumed regularly. A diet that includes lots of healthy fiber-rich foods — including prebiotics to feed the "good" bacteria — is key to maintaining a healthy and diverse gut microbiome, improving digestion, increasing satiety, and keeping things moving along in the large intestine.
When the "good" species of bacteria are flourishing, they help suppress the "bad" ones that can wreak havoc on your digestion. But when they're not super strong, the bad guys can take over. This can result in issues that really disrupt your digestive system like small intestine bacterial overgrowth (SIBO). Other disorders or syndromes like irritable bowel syndrome (IBS), ulcerative colitis, Crohn's Disease, and celiac disease can result, too. 
But a daily dose of prebiotic fiber featuring resistant starch, like the blend in Muniq Bars, can help set you on a path to achieving a healthy gut microbiome and optimal health.
A healthy gut microbiome has been shown to help with:
When we possess good gut health, we:
Experience good digestion

Absorb nutrients effectively

Have a wide range of flourishing gut microbiota

Feel an overall sense of well-being
Muniq Bars help you consume the gut-healing starchy plant fiber the easy, delicious, and super convenient way like never before.
What Ingredients are Included in the Resistant Starch Fiber Blend in Muniq Bars?
This proprietary blend is made with just four ingredients: 
Looking for low FODMAP foods?
The prebiotic fiber blend used in Muniq Bars is low FODMAP! What does that mean? FODMAP stands for fermentable oligosaccharides, disaccharides, monosaccharides and polyols, also known as short-chain carbohydrates (sugars) that the small intestine absorbs poorly. Some people experience digestive distress such as cramping, bloating, gas, constipation and diarrhea after eating them. Since our fiber blend in Muniq Bars do not possess any FODMAPs — and our bars are currently in the final stages to be certified as a Low FODMAP food with Monash low-FODMAP certification — you won't have to worry about them triggering symptoms like those. 
Muniq Is the Only Bar with a Resistant Starch Fiber Blend that's Validated by More than 200 Peer-Reviewed Clinical Studies 
We're truly raising the bar on healthy snacking. No other bar even compares. And, we pack in this superpowered fiber and protein – without excess sugar, calories, or carbs.
| | | | | | | |
| --- | --- | --- | --- | --- | --- | --- |
| Bar | Cals | Net Carbs | Fiber  | Prebiotic Fiber with Resistant Starch | Sugar | Protein  |
| Muniq | <180 | <7g | 10g | 10g | 1-2g | 10g |
| Quest | 200 | 3g | 5g | 0g | 1g | 19 |
| Kind | 180 | 9g | 7g | 0g | 5g | 6g |
| Quaker  | 100 | 16g | 1g | 0g | 7g | 2g |
| Nature Valley | 190 | 27g | 3g | 0g | 12g | 3g |
| Fiber One | 140 | 20g | 9g | 0g | 9g | 2g |
| NutriGrain | 130 | 24g | 1g | 0g | 12g | 2g |
| CLIF | 250 | 38g | 5g | 0g | 17g | 10g |
| Atkins | 190 | 3g | 11g | 0g | 1g | 15g |
| LaraBar | 210 | 19g | 4g | 0g | 16g | 5g |
| Kashi | 130 | 19g | 4g | 0g | 7g | 3g |
| RxBar | 210 | 20g | 3g | 0g | 18g | 12g |
What Goes into the Delicious Taste of Muniq Bars?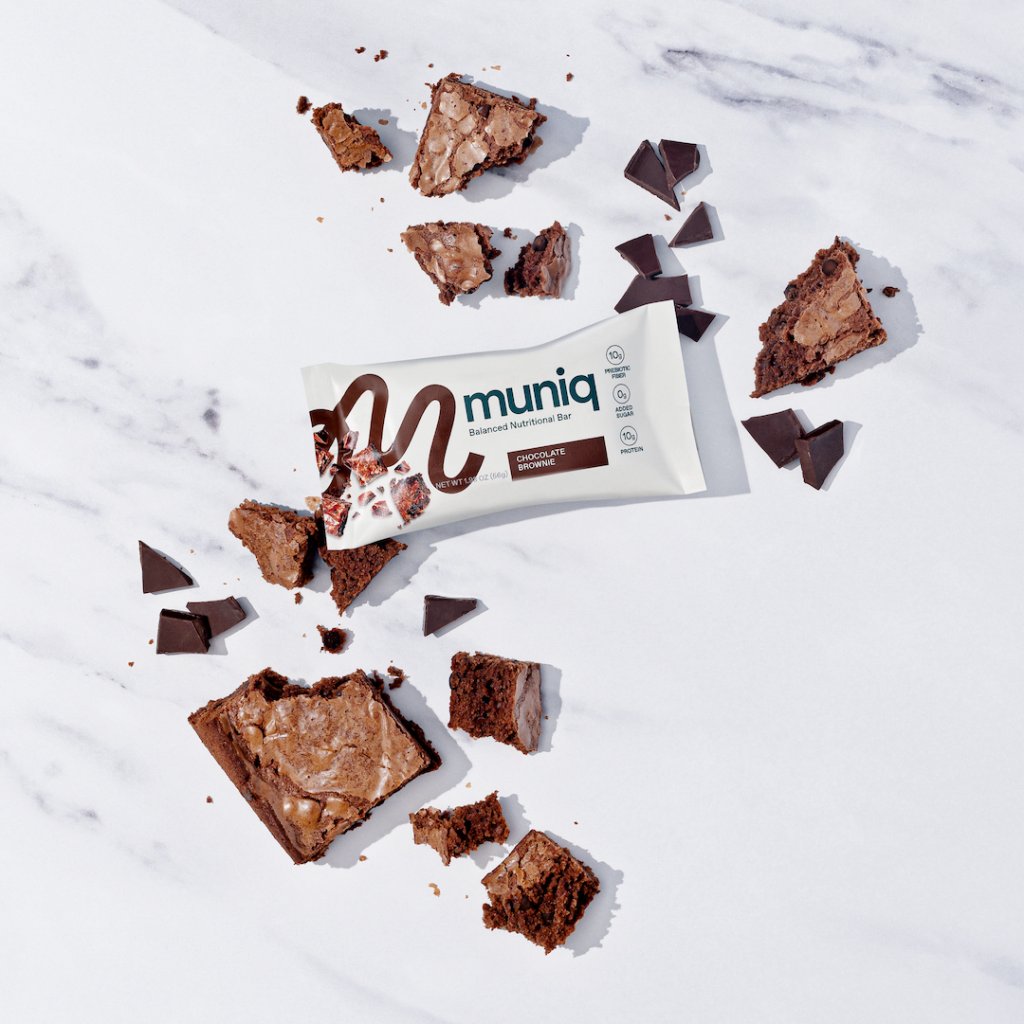 We're a bit biased, but we know you're going to love our Bars. That's because we're 100% committed to creating the most delicious snack you'll actually look forward to eating, that can help transform your gut health and reboot your metabolism.
For the flavor magic of Muniq bars, we worked with some of the world's leading flavor experts and perfected the taste and texture. The natural sweetness in our Muniq Bars comes from allulose, a near zero-calorie sugar alternative. All three flavors of Muniq Bars have deliciously decadent coatings and natural ingredients including real chocolate, peanut butter, and a strawberry flavor that makes you forget for a second that you're optimizing your health.
How Do the Bars Taste Indulgent with No Added Sugar?
Muniq Bars contain a natural sweetener blend of allulose and Reb-M. Allulose is a super-low calorie sugar alternative that is absorbed by the body but not metabolized, so it doesn't raise blood sugar levels. Allulose, naturally present in only a few foods including figs and raisins, has been found to lower blood sugar or insulin levels and help protect insulin-producing pancreatic beta cells. Its taste and texture has been described as identical to table sugar, so you won't feel like you're missing out on feeding your sweet tooth!
Reb M, found in the leaves of the stevia plant, is a natural non-GMO sweetener that's calorie-free and has the same sweetness of stevia (and almost 300 times the sweetness of sugar) without the bitter aftertaste.
What Flavors Do Muniq Bars Come In?
Whether you're craving the taste of a rich dessert-like indulgence, a sweet and salty treat, or a taste of something refreshingly fruity, we've got the bar flavors that'll hit the spot! 
What Are People Saying About New Muniq Bars So Far?
We wanted to make absolutely sure you would love our new Muniq bars. So, we asked our Muniq Lifers to give them a try and here's just a taste of some of the incredible feedback we received. 
"I absolutely love these bars. Considering these are fiber bars, I am very impressed with how good they taste. For me, all 3 flavors are excellent. They are very handy to use for a quick snack, for travel, or as a replacement for my evening snack shake. I love the flexibility it gives me. No getting bored of the same thing every day! Thanks Muniq!" – Carol Lee A.

"The bars are great for busy people on the go. Toss them into your purse or backpack for easy and convenient snacking. They make a great addition to the Muniq shakes. I like to keep one in the car so I always have something on hand if I get hungry. It keeps me on track and keeps me from eating out (where there's not always healthy choices). Another great tool in my weight loss bag!" -Julie C. 

"I absolutely love the strawberry almond bar! Delicious! I love the texture and the level of sweetness was just perfect for me! I really like the little bits of dried strawberry used in these! This one is a true treat to eat! The chocolate brownie is my second favorite! I like the crispies in the bar which gave it a nice texture to chew. – Pat S. 
Order your Muniq Bars today while they are still in stock and make this mouth-watering treat a part of your daily routine for many healthy years to come!