READ TIME:
< 1
MINUTE —
This recipe is a delicious and refreshing lemony version of our popular
Muniq vanilla
shakes. We were so inspired by the
positive reception this recipe has received in our
private Muniq Lifers community
that we just had to share it on our blog.
You might be thinking: lemon zest in a shake?! Believe it or not, it's F
ANTASTIC. It comes courtesy of
Muniq Lifer community
member Chip R., who marries lemon juice and lemon zest (and a hefty amount of ice) with the natural vanilla taste of Muniq. Mmmm.
This lemony shake is so refreshing that it just might bring to mind happy thoughts of warm summer days…even in winter!
Muniq Lemon Vanilla Shake Recipe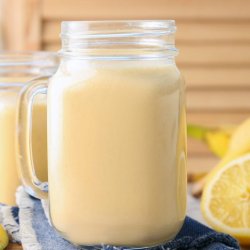 Ingredients:
Add all ingredients to a blender
Blend it up, then enjoy the refreshing blend of fresh lemon and delicious vanilla taste!