READ TIME:
7
MINUTES —
In this article, you'll find 10 super easy ways to use the new Empowerfull Prebiotic Fiber Blend:
Finally, getting health-boosting, gut-healing fiber with resistant starch is easier than ever with our super versatile Empowerfull Prebiotic Fiber Blend! 
What is the Empowerfull Prebiotic Fiber Blend and what are its health benefits?
This unflavored, unsweetened powder features resistant starch, which survives the digestion process (that's a good thing!) to feed your gut's beneficial bacteria that work collectively to promote your optimal overall health.
In fact, resistant starch is scientifically shown through more than 200 peer-reviewed clinical studies to help positively transform the health of your gut microbiome, metabolism, digestion, immunity, and more! And the best part? Our patented resistant starch blend is digested slowly, which helps keep you full for hours to curb cravings, stabilize your blood sugar levels, and keep you feeling naturally energized. 
More good news? Empowerfull comes in convenient stick packets, great for at home or on the go. Just tear, pour, and stir vigorously to upgrade ANY meal, snack, or beverage into a filling, nutritious superfood. Turn your coffee, tea, oatmeal, yogurt, baked goods, soups, stews, or even plain-old water into a resistant starch packed superfood! 
This health hack fits seamlessly into any lifestyle (even keto!) to make your journey to optimal health delicious and easy.
Ready for ideas on how to easily add it in your daily routine? Keep reading until the end for 10 easy ways to use Empowerfull. 
But first, here are some things to consider…
How much fiber and how many Empowerfull packets should you have each day? 
The Food and Drug Administration (FDA) set the recommended daily value for fiber intake as the following: Women should consume a minimum 21-25 grams of fiber daily and men should consume a minimum of 30-38 grams each day. 
To put that into perspective, most processed foods have 0 grams of fiber! And, though fiber is critical for health, a shocking 95% of Americans don't even get close to the daily minimum. That's why each packet of Empowerfull is packed with 8 grams of resistant starch – a super-powered fiber. 
Add just one packet of Empowerfull into a food or drink, such as your daily coffee or tea, stir, and sip — and you're off to an incredible start! And, you're getting your fiber in – without taxing your system with unwanted sugar or refined carbs that spikes your glucose levels and can lead to weight gain! It's a win-win. 
Good "Fibes" Only!
Diets rich in fiber, including those with non-processed whole foods, help keep everything flowing along your digestive tract. But, not all fiber is created equal. While all types of fiber play a role in proper digestion, some fiber like the prebiotic resistant starch found in Empowerfull also helps improve the health of your gut microbiome. 
Our gut-healing, unflavored Empowerfull Prebiotic Fiber Blend is packed with 8 grams of prebiotic fiber featuring resistant starch that helps feed the beneficial bacteria in your digestive tract (AKA your gut) and keeps you feeling comfortably full for hours.
Empowerfull helps you get the gut-healing, health-transforming benefits of prebiotic fiber featuring resistant starch – without ANY sugar and just 10 calories!
When we say ANY food or beverage, we mean it! 
We get that it can be challenging to give up the taste and convenience of many of your favorite fiber-stripped foods overnight to make a transition to eating only whole foods. And we'd never want to force you to give up an occasional splurge to enjoy your social life and holiday food. So even if you occasionally use Empowerfull with "untouchable" foods — at least you'll know you're getting your fiber in to help keep your blood sugar from spiking and curb cravings for hours. 
How many Empowerfull Prebiotic Fiber Blend packets can you consume in a day? 
We recommend starting slow with one Empowerfull packet per day, then gradually ramping up to two or three packets per day over the course of about a week to two. 
And, you can also use Empowerfull in combination with Muniq Shakes to supercharge your blood sugar and weight loss benefits. One Muniq Shake per day for a minimum of 90 days is going to give you the very best chance at long-term health success and adding an Empowerfull pack to your daily routine will help expedite your results and give you more on-the-go flexibility.
Will the Empowerfull Prebiotic Fiber Blend affect the taste of the food or beverage it's added to?
We've designed Empowerfull to be virtually tasteless so it won't change the taste of what you add it to. It also has a nice mouthfeel and texture, and we recommend stirring it vigorously into foods or drinks for about 30 seconds so the healthy prebiotic fibers can blend seamlessly. 
And now, drumroll please…
10 Easy Ways to Use Empowerfull 
1. Coffee, Tea, Matcha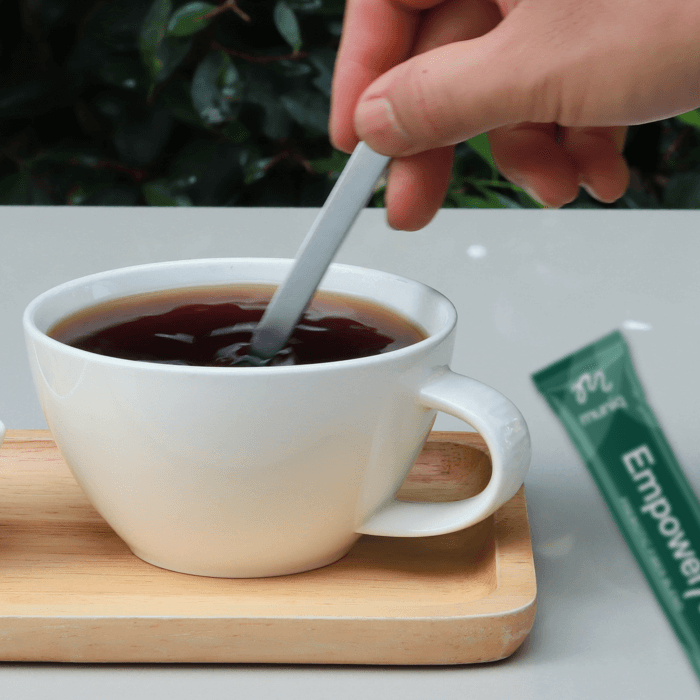 Simply stir the contents of one packet of Empowerfull into your drink for a few spins until you no longer see the powder. It won't change the taste – just the fiber content, and it adds a nice mouthfeel! You will notice a difference in your health stats and the way you feel! It's easy to make it a habit with something like this that you may drink every day, any way. 
2. Smoothies, Green Juices & Protein Shakes 
Toss the powder into the blender and voila – your smoothie or protein shake is instantly filled with gut-healing resistant starch! Though packed with protein, protein shakes can often lack the kind or amount of fiber you need to keep your gut microbiome functioning optimally. So toss in Empowerfull to get more benefits from your shake. It's worth mentioning that you don't need to add these to Muniq Shakes because they're already packed with 15g of the same prebiotic fiber, which is nearly twice the amount of fiber as 1 Empowerfull packet.
3. Oatmeal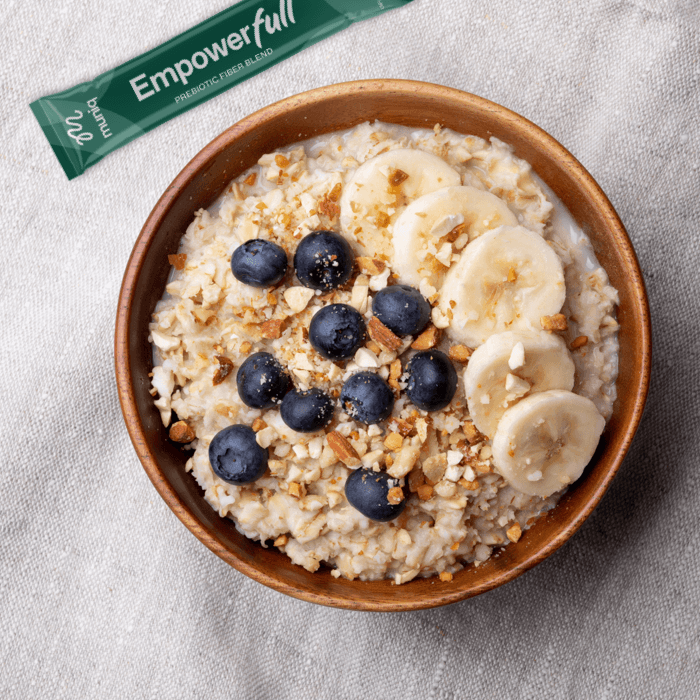 Adding Empowerfull to oatmeal helps keep your blood sugar from spiking. Oats are still a good source of fiber as they include the powerful heart-healthy fiber, beta-glucan. Most instant oatmeals contain about 4-8 grams of fiber per cooked cup. But adding Empowerfull can give you extra credit early on in your day on your fiber stats as well as help keep your blood sugar stable and keep you full for longer.  
4. Yogurt
Many yogurts are packed with so much added sugar that the fiber in there isn't enough to keep your blood sugar from spiking. Want to make your favorite tasting yogurt the one with the healthy fiber boost? Just mix in Empowerfull. Want to go above and beyond? Add some low sugar fruit (like berries), naturally rich in fiber, to top it off!
5. Pancakes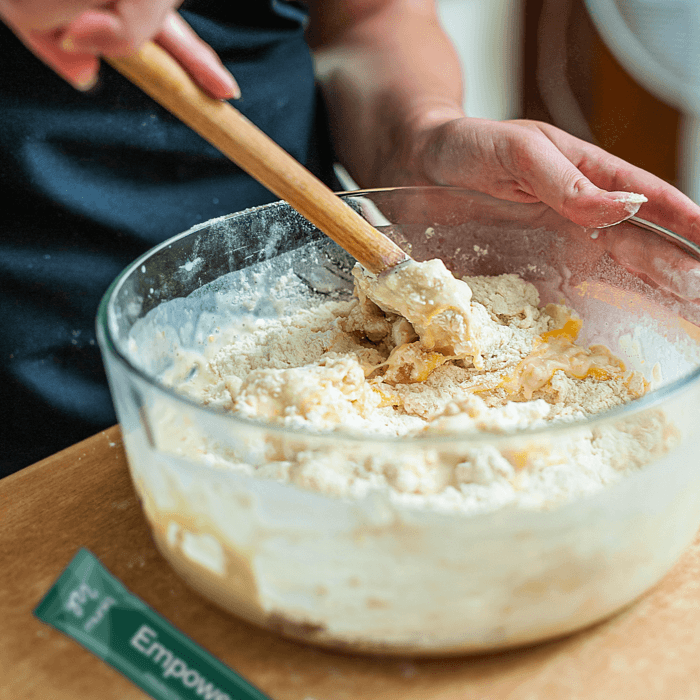 Whether you're making healthier pancakes from scratch or using a boxed mix on a special occasion, you can mix Empowerfull into your batter to give your meal a boost of healing fiber.
Try these Muniq Empowered Pancakes!
6. Baked Goods
If you like baking, you know that it's an exact science. But not to worry – you don't need to swap anything in your recipes! Just add Empowerfull right into the mix before you bake! And this isn't just for baked desserts. You can mix it into bread, lasagnas, ziti, and so much more! We don't recommend using Empowerfull on previously baked goods as the powder will sit on top looking a bit like powdered sugar. 
Looking for something sweet? Our Blueberry Lemon Scones and Banana Nut Muffins are calling your name!
7. Soup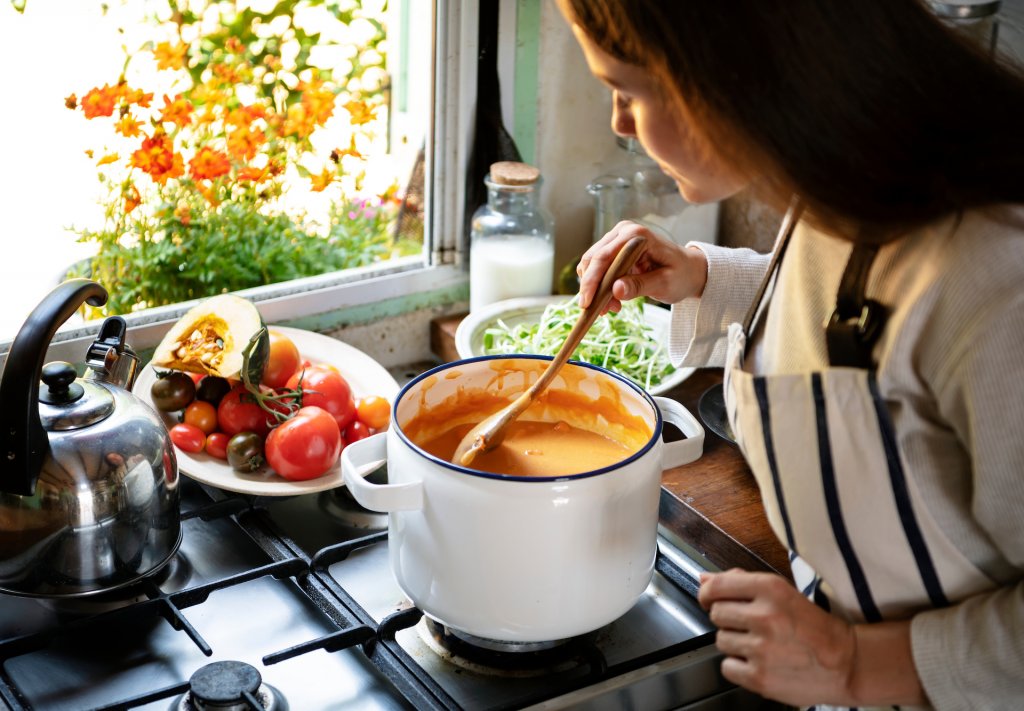 Unless your soup is thick with lots of unprocessed vegetables in it, it most-likely won't contain adequate amounts of fiber. But, stirring in Empowerfull helps boost the health factor of your favorite soups, whatever the consistency, so you can cozy up to a warm soothing bowl, knowing your fiber count is on a roll.
8. Pasta Sauce and Other Sauces
In case you're curious, pesto sauce has the highest fiber content of pasta sauces, coming in at measley 1 gram of fiber per serving. So you can imagine that tossing pasta sauce on fiber-stripped white pasta won't get you closer to your fiber (and health) goals. But adding Empowerfull to your pasta sauce, will! 
9. Milk-Based Drinks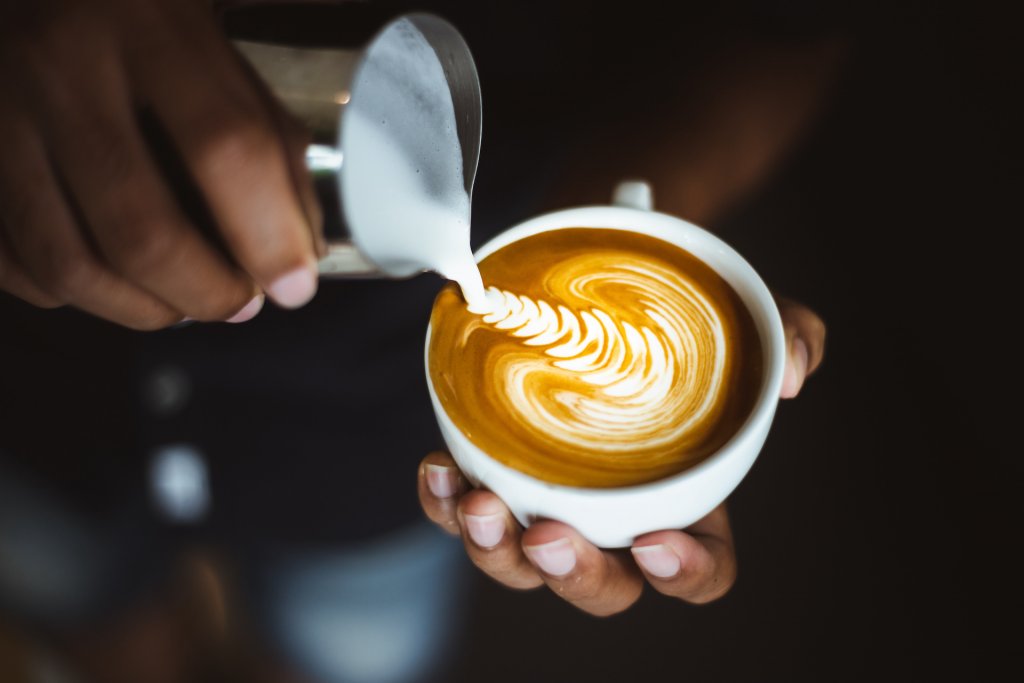 We recommend drinking non-dairy milk such as unsweetened almond milk, but why not get your fiber-fix with a mouthwatering chocolate or vanilla no-sugar added almond milk, coconut milk, or cashew milk? 
10. Eggs
Eating eggs can help your body produce elevated levels of high-density lipoprotein (HDL), also known as the "good" cholesterol. Though eggs are a deliciously versatile food that you can cook into quiches, omletes, casseroles, breakfast tacos and much more, eggs have 0 fiber. So if you're not able to pair your eggs with a whole, high-fiber food – and even if you are – you can boost the gut-healing prebiotic fiber resistant starch content of your eggs with Empowerfull! Pro tip: we don't recommend sprinkling it on already cooked eggs as it mixes better into the eggs before they are cooked. 
Want more ideas? Check out what other people are adding Empowerfull to in our Muniq Lifers Facebook Community and head over to our blog for our favorite Empowerfull recipes! Ready for results? Start thinking about what YOU will add Empowerfull to!